2010 Moscow, Russia
WRTC 2010 was held in Moscow, Russia, organized by Soyuz Radioljubiteley Rossii – the Russian National amateur radio society. 48 teams representing 24 countries participated. For the first time in WRTC history, all operating sites were as equal as possible, using flat fields with no significant location advantages. Volunteers from radio clubs all over Russia installed identical antennas and tents at each site. All competitors operated "Field Day style" using portable electric generators.
Also new in WRTC 2010, both operators were allowed to operate at the same time, interleaving contacts, as long as only one transmitted at a time, an operating style borrowed from the Russian Radiosport Team Championship (RRTC). Most participants used a triplexer or diplexer to enable the tri-band Yagi antenna to be shared by both transceivers at the same time without interference.
First place: Vladimir Aksenov RW1AC and Alexey Mikhailov RA1AIP of Russia
Second plage: Tõnno Vähk ES5TV and Toivo Hallikivi ES2RR from Estonia
Third place: Dan Craig N6MJ and Chris Hurlbut KL9A from the U.S.A.
Visit the WRTC 2010 Russia official website.
More Info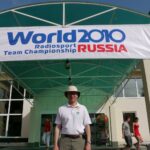 Bob Wilson, N6TV, has shared his extensive photo album from WRTC 2010 and the surrounding events. Click on any link to go to the Google photo album.
(read more…)